Non-Invasive CGMs Offer Hope for a Better Future
Jul 05, 2023
In diabetes management, continuous glucose monitoring (CGM) devices have become invaluable tools for individuals to track their blood glucose levels.
However, the invasive nature and costs associated with traditional CGMs have left a gap in the market for a non-invasive and more affordable alternative.
Non-invasive CGMs have been in development for some time and involve the use of alternative ways to detect glucose levels in a person's bloodstream without having to draw blood.
This new technology is still being created, and while recent efforts seem promising, more than 20 years of research have yielded very few potentially viable products.
In theory, there are several ways that a non-invasive CGM could work.
One approach involves testing sweat, saliva, or tears for glucose levels. These methods employ spectroscopy - identifying chemicals based on their reaction with electromagnetic radiation, by using a laser that does not penetrate the skin.
Another technique is to utilize optical sensors that can detect glucose through the skin without penetrating it.
Because these methods only require contact with the skin, it may be possible in the future to incorporate them into wearable devices like smartwatches or bracelets.
---
Hagar Technology's GWave
One potential non-invasive CGM that has been developed is Hagar Technology's GWave.
This device uses radiofrequency waves to measure glucose in the blood.
Calibration is not required.
The device is worn on the wrist in a bracelet and would relay information to a smartphone via Bluetooth.
At the American Diabetes Association 83rd Scientific Sessions, on June 24, 2023, Hagar Technology presented feasibility data from a study including 75 individuals monitored using the GWave CGM:.
34 individuals with diabetes (28 with type 1 diabetes),

10 pregnant women with diabetes,

And 31 individuals without diabetes.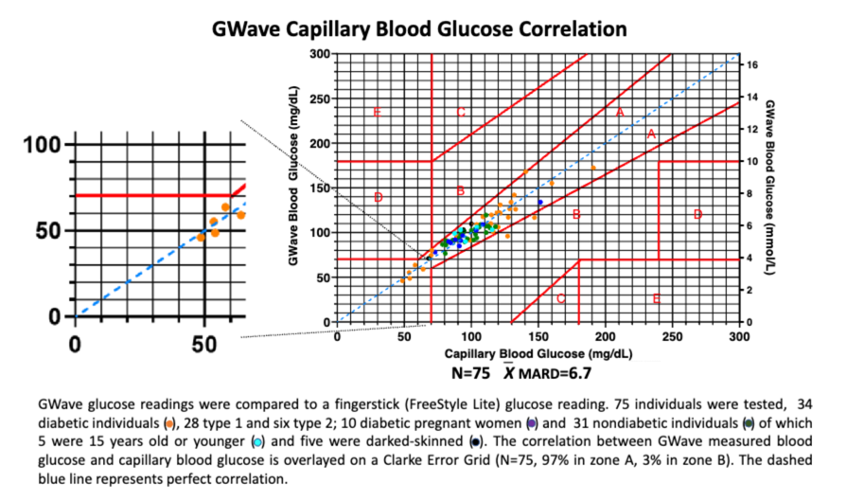 The study revealed a Mean Absolute Relative Difference (MARD) of 6.7% between
the GWave data,

and blood glucose meter readings from off-the-shelf blood glucose meters (FreeStyle Lite),

and CGMs (Dexcom G6 and Freestyle Libre 2).
This MARD falls within acceptable accuracy levels for CGMs, being lower than some existing models.
However, this was not calculated using Yellow Springs Instrument (YSI) Glucose analyzers as a reference, which is considered a gold standard in calculating MARD for CGMs.
This is a limited study that only tested glucose ranges from 140-180 mg/dl, and broader studies are expected in the near future.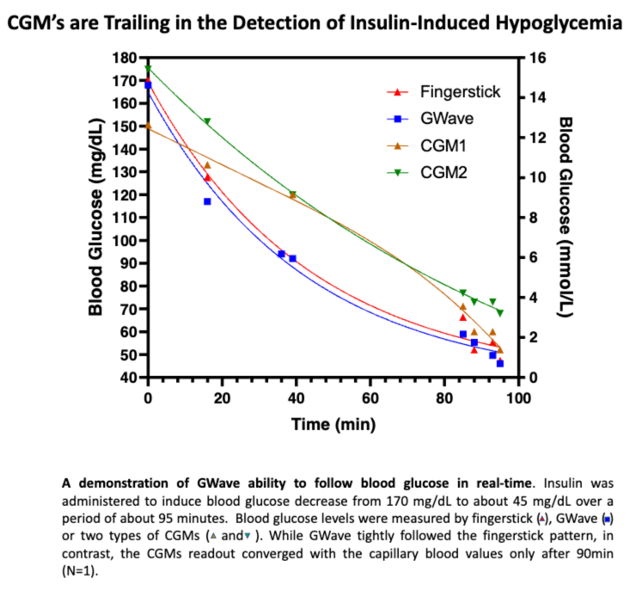 However, this release gives some hope for the GWave, as there seems to be no lag time in receiving accurate readings.
Additionally, the proposed cost for the device is significantly less expensive than other CGMs at only $100, with no additional disposable products needed.
GWave represents a significant step forward in the pursuit of non-invasive glucose monitoring.
With its accuracy and a vision for accessibility and affordability, GWave could potentially become an approved option in the future.
---
The Future
While the GWave is an exciting development, many are skeptical about non-invasive technology.
Non-invasive CGMs may seem ideal to many people with diabetes, however, questions of accuracy and feasibility seem to stifle the progress of these types of devices.
In order to be approved for use by regulatory agencies, any non-invasive CGM would need to pass rigorous safety tests
and demonstrate accuracy comparable or better than traditional CGMs in a variety of conditions.
Additionally, the device will have to prove that its readings are consistent and reliable over time.
Despite these obstacles, there is still hope for non-invasive CGMs and the GWave could potentially be a breakthrough technology in the future.
As more research is done, advances in non-invasive glucose monitoring technology may become possible.
With increasing accuracy and affordability, these devices may one day make it easier for people with diabetes to monitor their blood glucose levels without puncturing their skin.
---
Stay up-to-date with the latest advancements in diabetes technology by accessing our comprehensive Overview Diabetes Technology 2023. On pages 10-11, you will discover 33 non-invasive CGMs currently in development.
Don't miss out on this valuable resource to stay fully up-to-date with the cutting-edge progress in diabetes technology.
Kind regards,